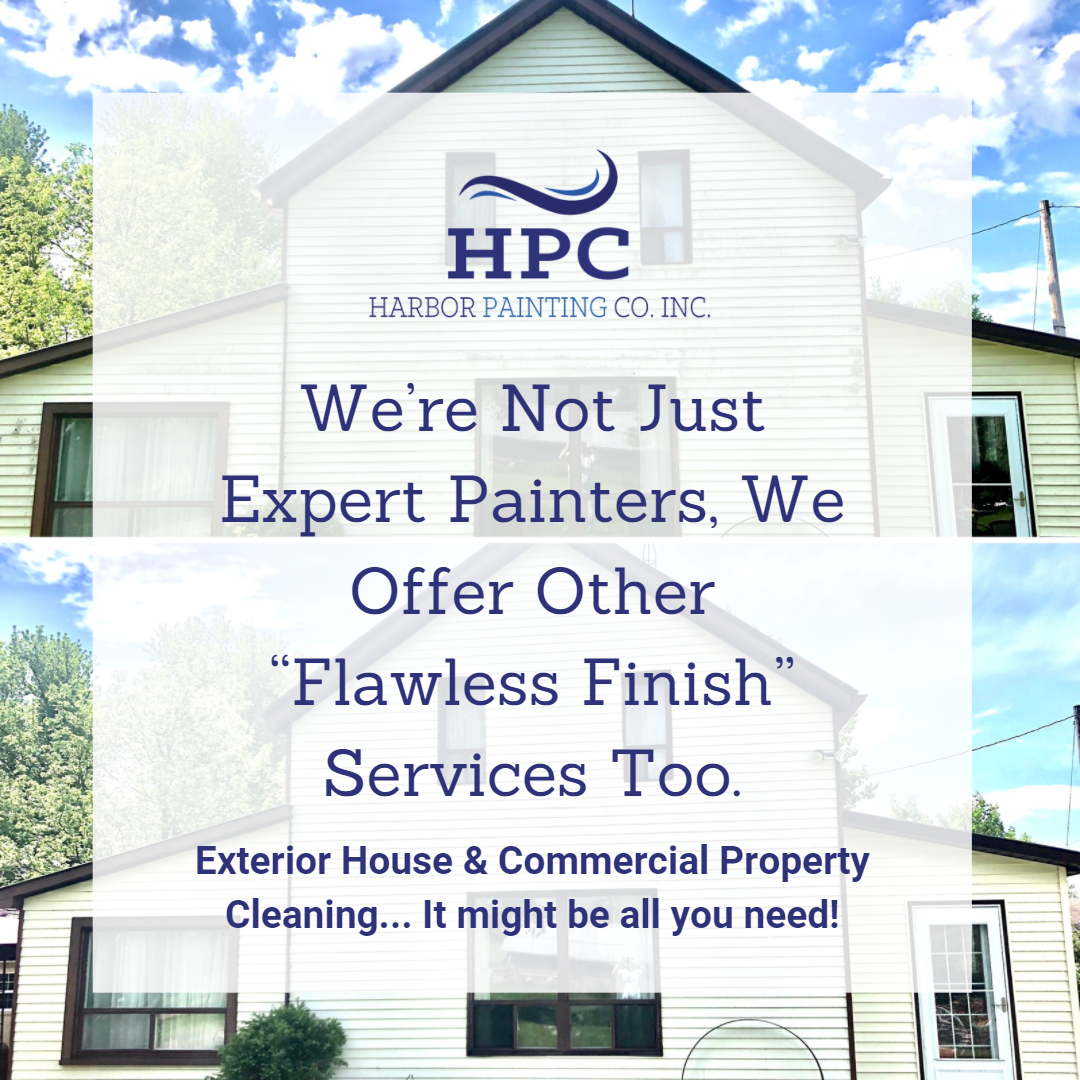 Exterior House Cleaning may be all you need!
We're Not Just Expert Painters, We Offer Other "Flawless Finish" Services Too.
Many proud homeowners spend a great deal of their "downtime" doing work around the house.
Perhaps it's a labour of love for you, it's time spent outdoors that makes you happy, maybe you simply recognize that hard work is part of the cost of home-ownership, or your customers expect to enter clean and well-groomed premises that suggest a high standard of care and attention to detail. Either way, we understand that to obtain and maintain a great looking exterior, paint might not always be necessary.
Sometimes you just need an expert touch in exterior house cleaning and at Harbor Painting, we've got the professional expertise to get the job done right.
Painting the exterior of a home to refresh, renew and rejuvenate can be a lengthy process. However, our professional power washing services often take as little as 2-3 hours to complete and will help to shine a whole new light on your home or business.
We don't just show up and attempt to perform our exterior house cleaning by blasting away at dirt and debris spraying it across your property and that of your neighbours, instead we offer trained technicians and a variety of Eco-friendly and biodegradable products that will help your home or commercial property without hurting the environment.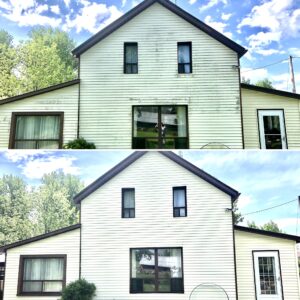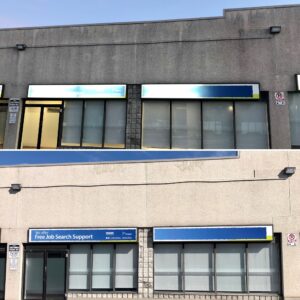 For Homes:
We specialize in whole exterior house cleaning, rooftops and driveway or walkway refreshes.
Providing both soft washing or pressure washing services we'll help determine what's right for your home depending on its exterior properties and then bring in our team of professionals equipped with all the right tools to ensure the job is completed with care and concern.
We use products that will remove up to 95% of stains whether caused by rust, dirt and grime, grease marks, tire marks or organic materials.
If you notice black streaks or staining on your rooftop this could be a sign of a particular strain of algae – one that's prone to creating a breeding ground for lichen. Before you have a bigger problem to deal with, put our exterior house cleaning soft wash roof service to work and prevent the spread of algae.
Driveways, concrete walkways and sidewalks all take a beating day in and day out. The weather, cars, trucks and bicycles, and people walking all over them – they endure a lot and stains, dirt and even organic materials (like grass) take a toll on them. Our services include pre-treating the stains, then using high-quality de-greasing agents and soaps to break down, lift and then remove the stains before cleaning the concrete, your driveway or sidewalks.
A flawless finish isn't always about paint. Sometimes you just need a hand – a professional hand – to come prepared and ready to wash away your worries. With professional results in as little as 2-3 hours, your exterior will look as good as new and you don't even have to watch the paint dry!
Commercial Cleaning:
Offering both large and small scale commercial cleaning, we're a favourite of property managers looking to refresh the look of their commercial condominium complexes. With unique needs including awnings, pathways, concrete, and other varied building materials, we recognize you need a qualified expert team with the proper ladders, equipment and training to handle any size job.
Our knowledgeable team will:
Choose soft washing or power washing based on their assessment of the property and level of cleaning required.
Utilize environmentally friendly and/or biodegradable products that protect your property and protect the environment too.
Will pre-treat and "lift" stains using chemicals and detergents that will remove just about anything – all before we ever start the soft or power wash process.
Will guarantee removal of 100% of all organic growth and up to 95% of the following: Rust staining, Grease staining, Tire marks, Graffiti, Oil Stains, Smoke Soot, Caulking Bleed, Aluminum Oxide Bleed, Calcite Build Up, Lime Run, Mortar Smear, Efflorescence, Black Crust on Limestone
Regular maintenance on condominium properties due to their specific and unique needs is important. Ask us about our annual, semi-annual or seasonal commercial cleaning packages and how we can help your condo or business maintain curb appeal for your customers.
We asked Danny, Owner of Harbor Painting why cleaning and not painting? Here's what he had to say:
We love painting but sometimes all you really need is a good clean wash to obtain a fresh new look. We often recommend a good scrubbing before starting to paint so this is really just an extension of our services. I'm proud of our team of trained technicians and the exterior cleaning services we offer to both commercial and residential property owners. We stand behind what we do and we're happy to quote your property so you know exactly what to expect.
If you need exterior cleaning for a commercial property or to help make your house feel like home, contact Harbor Painting today!