CABINET PAINTING
Cabinet painting is a popular way to revitalize a kitchen. Are you ready for a new look but can't wrap your head around spending thousands of dollars to replace it? We have just the solution for you! For just a fraction of the cost of a complete remodel, we will completely transform the look and feel of your kitchen and paint your cabinets by just using paint. This means NO time consuming, expensive kitchen renovation, NO mess and most importantly you will NEVER lose the ability to use your kitchen for more than a few days!
WE'RE MASTERS OF THE CRAFT
At Harbor Painting Co. Inc., we've mastered the fine-art craft of cabinet painting without the need for smelly, potentially ill effecting solvent-based finish products. Instead, our team uses environmentally friendly, high quality water-based lacquers which aren't harmful to you, your family or your pets. Rather than trying to tackle a project on your own, trust our team who are experts in refinishing kitchen cabinets and have years of experience serving clients in Newmarket, East Gwillimbury, Newmarket, Aurora, King City and surrounding areas of York Region.
WHEN 'SAVING' MONEY ACTUALLY COSTS YOU MORE
All too often we come across kitchens where either the previous or current homeowner thought they'd save a few dollars by hiring 'John Doe Painter' to paint their cabinets, resulting in catastrophic results. Sometimes the wrong product is used and the end result isn't standing up to the daily wear and tear a kitchen goes through. Other times, lack of knowledge and incorrect preparation of the materials can cause extensive peeling and chipping of the cabinet doors. This means the money you thought you were saving to refinish your cabinets now has to be spent on hiring an experienced painter to do the job correctly.
THE DONE RIGHT WARRANTY FOR CABINET PAINTING
At Harbor Painting Co. Inc., we guarantee that the work we do to refinish and paint your kitchen cabinets will be done properly the first time. You'll feel secure knowing we stand by our Done Right Warranty – a warranty we stand by for 10 years. So, avoid the headache and hire HPC to refinish and restore your kitchen cabinets – the professional team that knows exactly what they're doing, right from the start. We serve clients in East Gwillimbury, Newmarket, Aurora, King City and surrounding areas of York Region. To learn more and request a quote, contact us today.
Cabinet Painting Gallery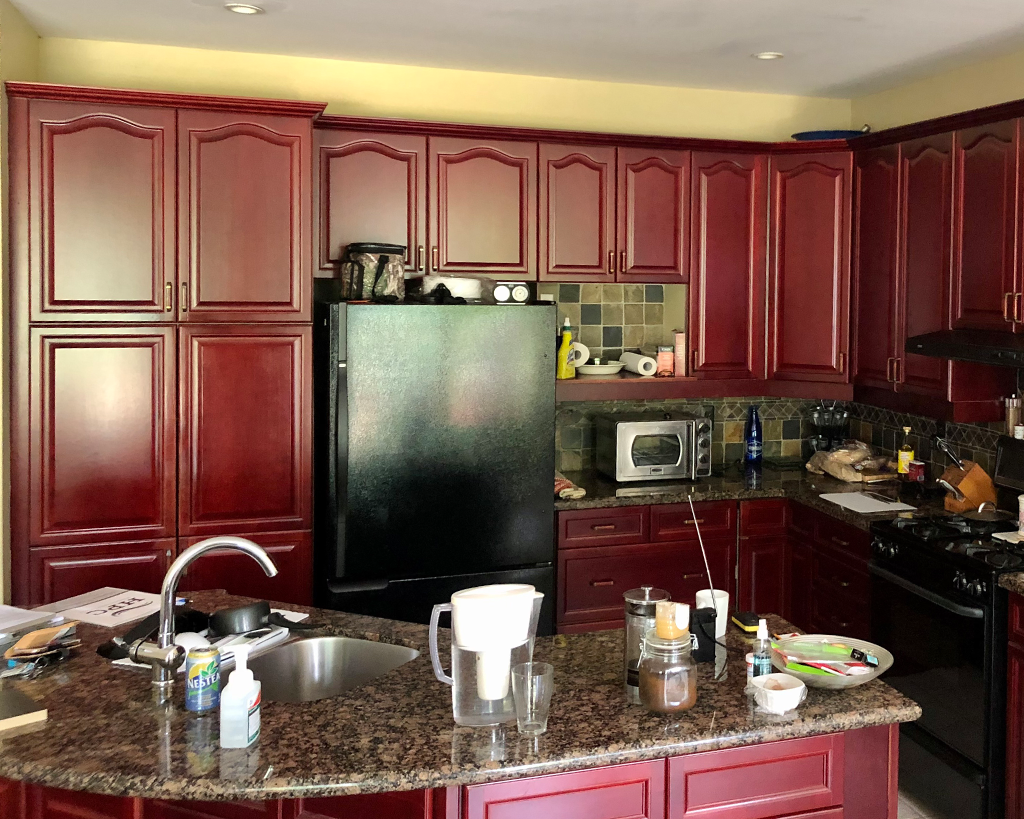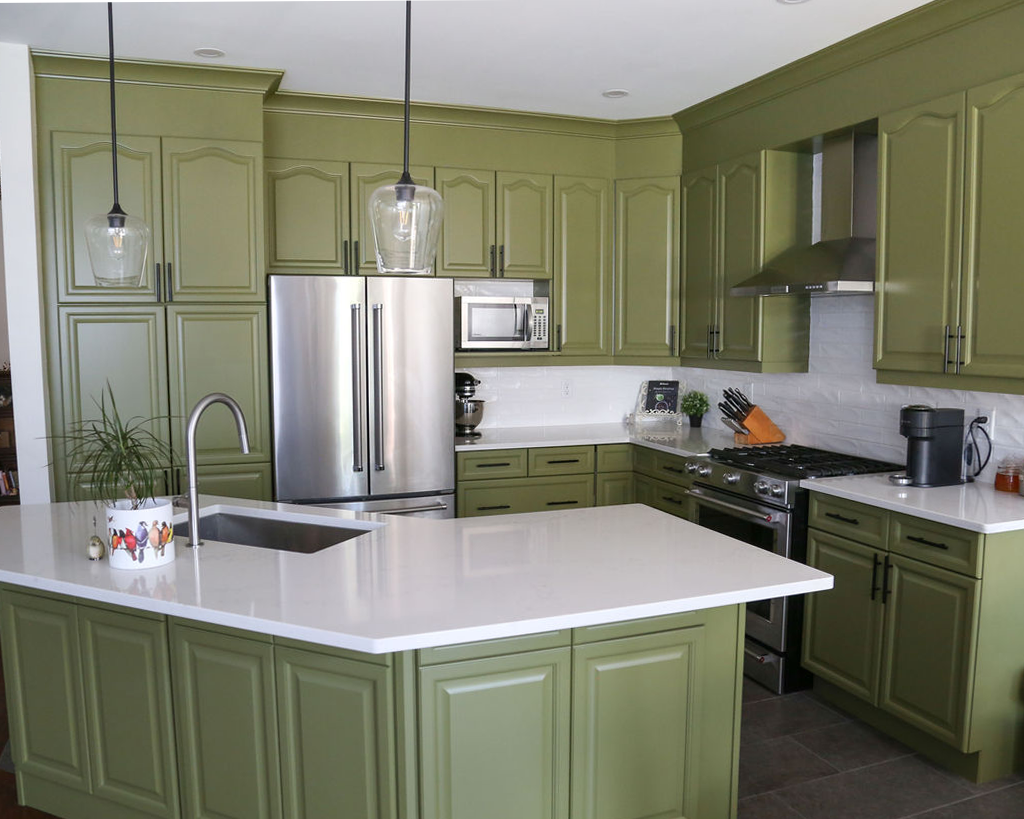 Frequent Asked Cabinet Painting Questions
These are just some of the most commonly asked questions we get related to cabinet painting. If you have any of your own please do not hesitate to reach out to us below!
Do I have to empty my cabinets?
It is strongly recommended and preferred your cabinet boxes are empty and cleaned out prior to our crew begining your project. This way we know our estimated time to mask of the cabinets is accurate and we dont have to wrestle with the contents inside of them. This also prevents accidents of broken glassware and cookware.
Will the paint chip?
Yes the paint can chip. However, out of the hundreds of kitchens we have repainted we have only ever heard of 2 clients experiencing chipping. It depends on how well you maintain your cabinets, and if you are not overly aggressive when working in your kitchen. The most vulnerable parts will be the sharp corners of gables. Our paints have hardeners mixed into them which make them extremely durable.
Are the cabinet boxes hand painted or sprayed?
The boxes are all sprayed. We strongly believe in uniform finishes so we take the time to spray the cabinet boxes to ensure a uniform and factory sprayed finish to match the doors. A hand finish up against a sprayed finish is a night and day difference.
Are there any aftercare instructions?
Yes, as a thank you for your business and to help educate you on maintenance and aftercare, we provide every cabinet repaint client with a bucket, soap, soft cloths and a tri-fold brochure with instructions + do's/dont's.
How long does the job take?
Typically, we have your kitchen put back together within 10-12 business days. This will all depend on the size of the kitchen, the complexity of the space for the on-site portion of the job and how clean or dirty your cabinets are.
Can I still use my kitchen during the process?
We will be on site for an average duration of 2-2.5 days to paint the outsides of the boxes. During that time period you will not be able to use the kitchen as it will be completely masked off from the rest of your house. Once we finish the boxes, you can use the kitchen that night. Keep in mind, although the paint is dry to the touch it is not cured so you must be very cautious and aware of your movements.
How long does the paint take to cure?
Allow 7-10 days after cabinet painting for the paint to fully cure before doing any wiping or forceful cleaning.
Do you provide a warranty?
Yes, we provide a 10 year labor and material warranty on all of our cabinet painting projects.
Cabinet Painting Testimonials
Here are only some of all our 100+ Five Star Reviews mentioning cabinet painting!
Read More!
Excellent experience with Harbor Painting. We love the fresh look of our cabinets and the quality and durable finish. Rich was very professional, always arriving on time planned and provided us with a beautiful kitchen, paying attention to the details that make the job outstanding. Thanks!!
Kristen H
Google 5 Stars
We had Harbor Paining in to respray our kitchen cabinets, they were recommended to us by Bloomsbury Kitchens and they did not disappoint. I now have kitchen cabinets that are approx. 16 years old that look like new. I could not be more delighted. Danny and his team gave excellent service, paying attention to every detail to bring the project to a successful conclusion. Cannot recommend them enough.
Pat
Google 5 Stars
Danny and his amazing crew did a beautiful job with the interior of our home as well as painting our kitchen cabinets. They were meticulous and extremely clean and professional. I highly recommend them and will continue to use them for any future projects. Thanks so much our house looks incredible!
Stephanie G
Facebook Reccomendation