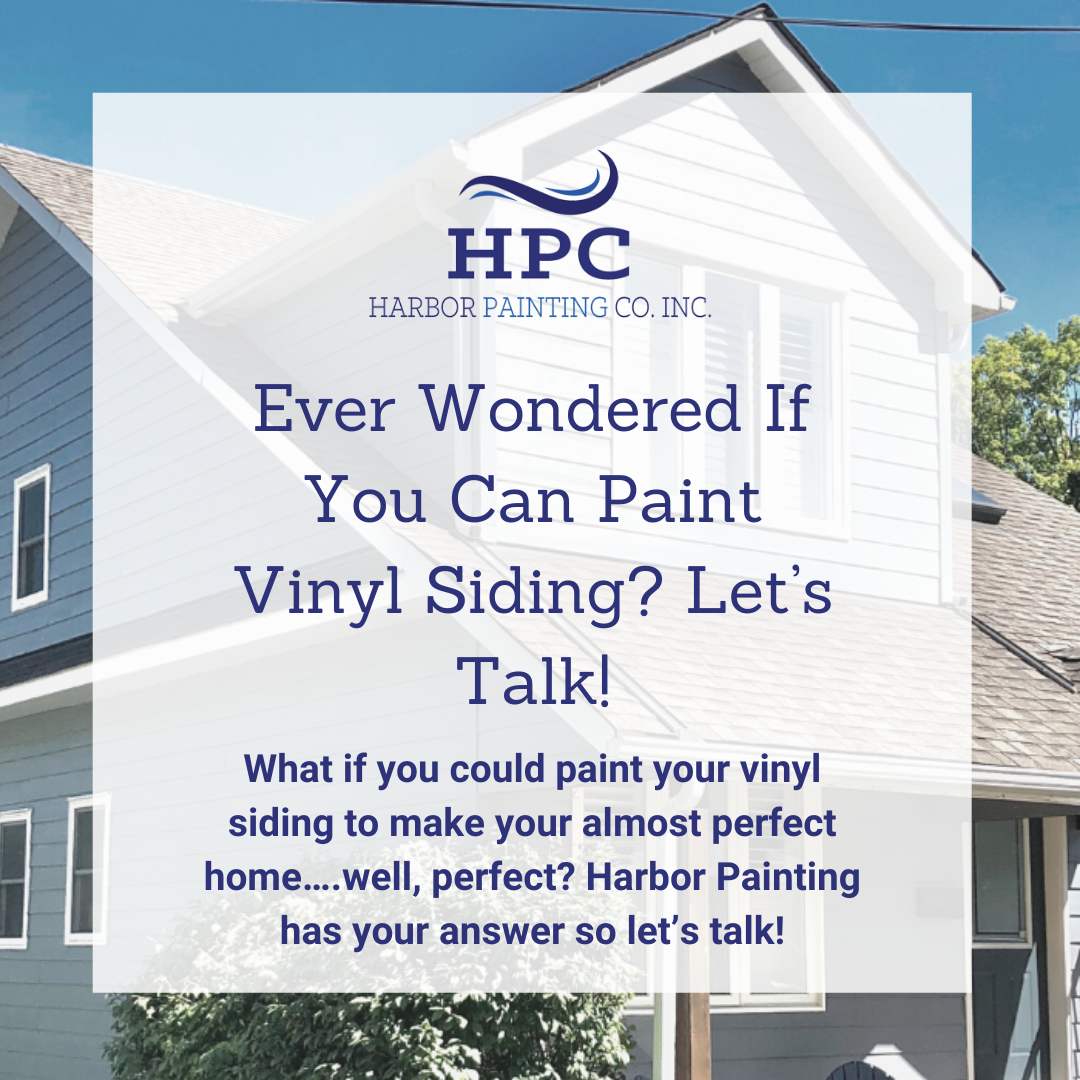 Vinyl Siding… Ever Wondered If You Can Paint It? Let's Talk!
When it comes to vinyl siding, many people make a specific colour choice when a home is first built, based at least in part on their lack of desire to ever have to paint their home again! Alternatively, new home builders will design an entire streetscape and choose colours to compliment one another accordingly, sometimes leaving no room for a homeowner to choose their preferred colour.
In either scenario, if you are the second (or third, or… you get the idea) owner of a home you might be left with a choice between buying an otherwise perfect home for your family's needs but hating the colour of siding, or settling for another home you might not love as much. What if there was a third option? What if you could paint your vinyl siding to make your almost perfect home… well, perfect? Harbor Painting has your answer so let's talk!
The quick answer is that YES, you CAN paint vinyl siding but you might not be surprised to learn that the quick answer is not always the easy answer. If you've ever heard the expression, "if it's worth doing, it's worth doing right," then we can tell you it has never been more appropriate than in this situation! Vinyl siding can be painted but it's not a straightforward task and if we are speaking plainly, it's almost always a job better left to the professionals. Here's why:
Painting Vinyl Siding
You'll really want to trust this particular type of job to the professionals because if it goes wrong, and peeling and flaking occurs, you're facing a costly repair, a second paint job, or you may even have to replace the siding.
Vinyl siding requires a very particular formulation to ensure success. Of course, it must be exterior grade paint but also it MUST be vinyl safe paint.
Vinyl safe paint employs a very specific colour pigmentation process because if it does not – the black pigment within the formulation can attract too much sun and heat during the warmer weather. This is a problem because with heat comes the potential for warping and/or in some cases, the vinyl siding actually lifting up and away from your home!
Your painting contractor should be licensed and insured AND should have experience with painting vinyl siding. They should provide you with a quote, proof of insurance and be able to answer your questions knowledgeably.
We come out each spring to evaluate and inspect your home.
In particular we will look at caulking around doors and windows in addition to the painted areas.
We will look at eaves troughs and soffits for mold, mildew and other issues that may impact the life of your paint.
We'll be looking for chipping, flaking and any other tell tale signs that the paint is not performing, provide the homeowner with an inspection report and discuss potential concerns.
Our team will also wash the exterior of your home, something we talked about in our September blog.
Vinyl siding requires special care and consideration but it CAN be painted. In fact, a properly completed paint finish, will extend the life of your vinyl siding, in addition to making your home more aesthetically pleasing and representative of your own colour choice preference. Painting should always be completed under very specific conditions and you will need the right tools for the job – using a roller or a paintbrush sometimes is best but often is not ideal so if you're thinking of completing the project yourself, you may need to make additional investments in sprayers, scaffolding, ladders and other equipment to ensure you can do the job properly.
Before you start, you should consider a consultation with a licensed and insured painter who has done this kind of work before to be sure it's done correctly. Danny, Owner of Harbor Painting, had this to say about painting vinyl siding: "Whether you're looking to fix up worn and sun-weathered siding on your home, or bring a new renovation to life with a fresh coat of paint, we know how challenging it can be to find the right team, which is why we pride ourselves on treating every project as if it were for our own home. As well, we have teams dedicated to commercial paint projects too."
Whatever your project, we'll come out and visit, quote and discuss the details thoroughly, and with respect because
"Painting is what we do – Relationships are what we create."