So, Should You Paint Wood? Some folks would never dream of painting over wood while others can't wait to "lighten and brighten" a set of kitchen cabinets or paint over an out-dated wooden stair rail or some baseboard trim.
While kitchen cabinets aren't the focus today (and require more than just what we're talking about in this blog) if you're saying to yourself, "I would paint over wood if I could," here is everything you should know about painting over wood! The truth is, it's not for the faint of heart. To do it right will require a lot of hard work, some sandpaper, primer and both time and patience. If you're ready, let's get started!
So, Should You Paint Wood?
Wood is beautiful, strong, long-lasting and an investment in your home. With that in mind, you wouldn't just slap a coat of any old paint on it. You'll want to do the job right, the first time, to ensure it will last for a long time. Thinking about all the factors behind the question Should You Paint Wood? Preparing and finishing a paint job involves making sure you have all the tools you will need like drop cloths, brushes, trays, primer, and paint colour of choice and in this case, you'll also want multiple grit levels of sandpaper and a good, trusted brand of wood filler.
According to Danny Samuelson, Owner of Harbor Painting Company Inc., here's why:
"The key to getting a beautiful finish on woodwork begins with diligent prep work and building up the surface with a great high build primer. By prep work, I mean filling in all the imperfections in the wood like nail holes, scratches, dents and dings. You will need strong wood filler and to expect to sand the entire surface with 120 or 180 grit sandpaper to ensure a proper bond between the surface and the primer."
Danny goes on to say Should You Paint Wood? Of course, but keep in mind that it is super important that you can't skip this step otherwise it will show up in the worst way possible after you apply your paint.
Next up you'll want to apply a high build primer that will seal the wood filler in, as well as helping start to create a new and smooth surface for the paint to bond to. Sanding again, between each coat, you'll need 220 grit for sanding primer and 320 grit and higher for sanding in between finish coats. This will help take your final finish to the next level.
To complete the job with a truly professional look, Danny explains that he typically prefers a sprayed finish on woodwork, BUT, if you don't have access to a sprayer, a velour or a really fine nap roller cover will also give you a nice finish.
Here is a before & after: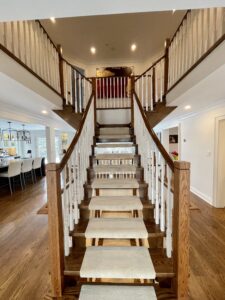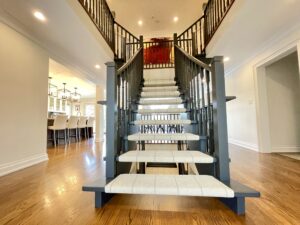 You can also check out some of our wood painting on our Cabinet Refinishing page here
How long is it going to take?
Of course, all of this takes time and no doubt some patience too! The temptation to see a product started and finished in one day is for some, hard to resist. HPC sees things differently though. Much like wood is long-lasting, HPC believes in service excellence and in building lasting relationships with their clients. To the team at HPC, doing a job right, the first time, might take a little longer but the process is as important as the end result. If you are thinking of doing a job like this on your own, here are a few further tips to consider:
Sandpaper
Seasoned painters and woodworkers will know but if this is new to you, you need to get familiar with sandpaper. It comes in a variety of grit levels that really has to do with how "aggressive" the paper will interact with the item you are sanding.
Think about the difference between a cotton ball and steel wool. Which one would you want to use for cleaning off mascara and which one is better suited to working on a wooden deck chair? For a project with wood, such as we've described in this blog, consider sanding with multiple grit levels starting at 120 or 220 grit sandpaper and working your way up to 320 or 400 grit sandpaper by your final coat of paint.
Wood filler
While wood filler products don't come in quite the same range as sandpaper, it's important to rely on a trusted name brand – one that's used by the professionals is almost certain to be used successfully on your next project. The team at HPC relies on Ready Patch Wood Filler and Timber Mate as their "go to" sources to help fill in surface imperfections.
Primer
Most often, primer is not a "one and done" scenario. For the best results in creating a smooth surface and to seal in your wood filler before applying several topcoats of paint, you should consider primer first. When working with cabinetry in our shop, we recommend using Envirolak primer to get the job done, but asking an expert for help with choosing the right primer for the job can help!
So, if you're still fighting with the question Should You Paint Wood? Or, if you are not quite ready to commit to the work involved in painting wood but you are ready for a change, contact the team or the office at HPC.
Just as you would want your paint to last, they believe in building lasting relationships with clients. In fact, their motto is this: "Painting is what we do – Relationships are what we create."
Contact HPC today because if you would like to paint your wood, you should – or we could!