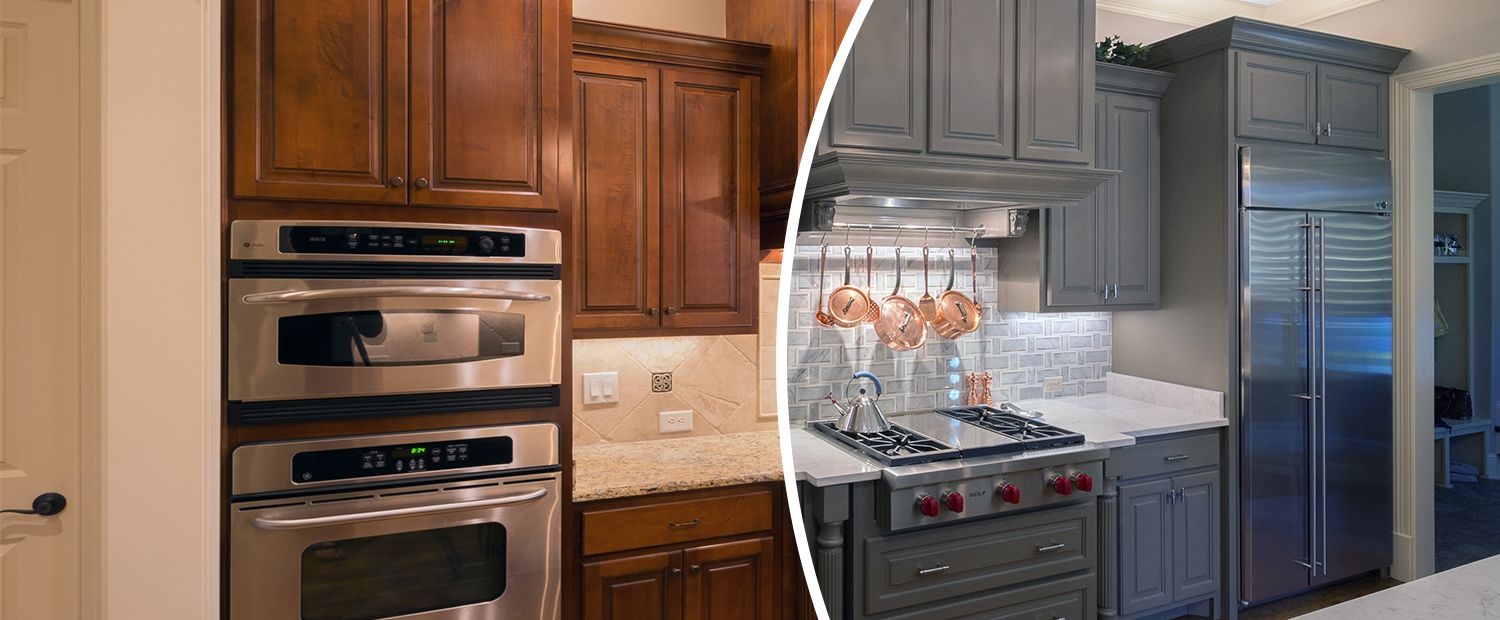 Have you ever wondered what your kitchen could look like if you got some Cabinet Painting and Refinishing done? Maybe even get creative and make your island a different colour than the rest of the cabinets to really get that pop of colour you've been longing for?
It seems that homeowners are often on the fence about whether or not they should replace their tired, dark and/or dated kitchen cabinets or opt for cabinet repainting and refinishing. The decision between refinishing cabinets vs. replacing should be simple! Read on to learn more about the difference between replacing and refinishing cabinets, the costs associated with both and the benefits cabinet painting and refinishing can have for you.
IS YOUR KITCHEN THE PERFECT CANDIDATE FOR CABINET PAINTING AND REFINISHING?
Here are four questions to answer when you find yourself on the fence about refinishing cabinets vs. replacing:
Do you like the layout of your kitchen currently?

Do you like the style of your cabinet doors?

Are you tired of the colour of paint chosen or don't particularly like the stained look the doors and boxes currently have?

Do you want to avoid spending tens of thousands of dollars to spend weeks dealing with renovations and the inconvenience of not being able to access a functioning kitchen?
If you have answered yes to three out of the four questions, your kitchen is the perfect candidate for cabinet painting and refinishing, rather than being replaced. Let's face it, no one wants to live through weeks and weeks of renovations in their kitchen. It's terrible! There's little to no sense in living through such a messy and costly nightmare when you can achieve a whole new look and feel to your space with little time spent, at an affordable price and with little to no inconvenience through refinishing your cabinets.
COST OF REFINISHING CABINETS VS. REPLACING
In many cases, an average kitchen will cost a minimum of $20,000 when doing a full remodel. What's more, wanting high-quality appliances that meet your family's needs or adding in stone countertops can easily drive up this price tag.
At Harbor Painting Co. Inc., our kitchen cabinet refinishing typically starts around the $4,000-$5,000 range and can vary depending on the size of your kitchen. This allows you to allocate much more of your budget towards other aspects of your project – like countertops and appliances that you love!
Not only are you saving money when you choose to refinish your cabinets, but it's also the least disruptive way to achieve the look and feel of a new kitchen. The key is to work with a company that has systems and processes in place to make this as seamless as possible.
CABINET PATINING AND REFINISHING: HARBOR PAINTING CO. INC.'S PROCESS
Harbor Painting Co. Inc. has a tremendous reputation when it comes to cabinet painting and refinishing. Our systems and processes make it possible to be in and out of your kitchen in 1-2 days so that you can get back to your way of life with little to no disruption.
From day one, our professionally trained cabinet refinishing crew comes into your home and gets right down to business. While a member of our crew removes your cabinet doors and labels them accordingly, another team member masks off the openings to protect the insides from overspray. While we do paint the insides of cabinets in some instances, as many are not completely solid wood we don't typically recommend doing so.
Once all the openings are masked, we move on to cover all countertops, any appliances left in the kitchen space, backsplash, flooring and any other surfaces that are not being painted. Thick plastic is put up from floor to ceiling to create a barrier around the kitchen which closes it off from the rest of your home. An air filtration system with a multi-layer filter is also set up within the plastic to help catch all overspray and any other airborne particles. We call this area a "negative airspace." The air within the plastic barrier stays inside the sectioned off area and is constantly filtered.
Next, we prepare the outsides of the boxes for paint. We start by cleaning the surface with a degreaser and then give it a light sanding. A proper primer will be used depending on what type of material your cabinets are made from, in often times, we use Envirolak primer. The primer creates a strong bond and gives a fresh surface for our finish. In some cases, a stain-blocking primer is required to stop any bleeding of the wood. Once primed, our crew gives the surfaces a thorough sanding with different grit levels of sandpaper. This round of sanding is extremely important because it is the final step before our topcoat or finish coat is applied.
Now comes the moment our team works so hard for, the topcoat! With state of the art spray equipment at their fingertips, our lead spray technician methodically applies coat after coat of water-based lacquer until the perfect amount of product lays on the cabinet surface. A double and triple check of the painted surfaces takes place to make sure all areas are uniform.
This same process is repeated on the cabinet doors in our spray shop. Once the doors are finished, they are carefully wrapped in packaging safe for transport. This whole process takes between 7-10 days depending on the size of your kitchen. Because our crew follows our numbering system, your doors are guaranteed to be placed back in the same spot they came from. In less than a week, the paint on your newly transformed kitchen will be fully cured and ready for many years of enjoyment.
CONSIDER HARBOR PAINTING CO. INC. FOR YOUR NEXT PROJECT
At Harbor Painting Co. Inc., we guarantee that our cabinet repainting and refinishing work will be done properly the first time. We serve clients in Mount Albert, East Gwillimbury, Newmarket, Aurora and surrounding areas of York Region. To learn more and request a quote, contact us today!