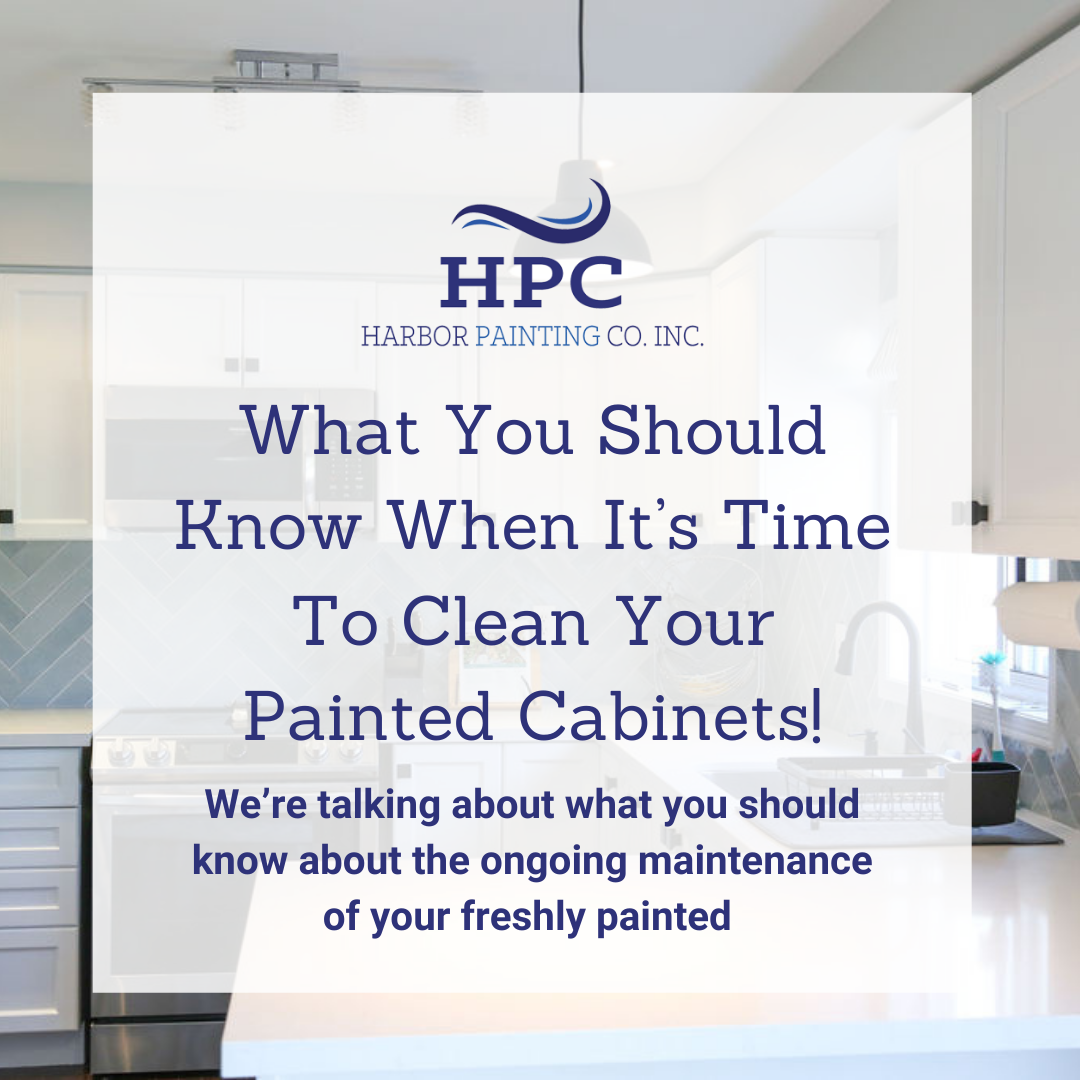 Painted Cabinets: What You Should Know When It's Time To Clean Them!
Cabinet refinishing is rapidly becoming a popular way to renovate a kitchen on a budget that is more affordable for some families than a complete "do-over." Just like in any room of the home, a fresh coat of paint is sometimes all it takes to completely transform the look and feel of the room and we'd go so far as to suggest that the results are even more dramatic when we are talking about kitchens.
Going from "drab to fab" can lighten and brighten a kitchen without ever losing its functionality while the work is being done. But – what comes after? Kitchens are one of the hardest working areas of your home and that means they are bound to get dirty. Splashed spaghetti sauces, sticky little fingers reaching for the cookie jar and the simple demands of everyday use mean your painted cabinets will require cleaning from time to time. Today, we're talking about what you should know about the ongoing maintenance of your freshly painted kitchen cabinets.
What kind of paint is on the cabinets?
The first thing you should do when painting professionals come to complete the work is to establish the products they are using. At one time, smelly and solvent based products (think oil based paint) were the "go to" paint for kitchens but at Harbor Painting Co. Inc. we use environmentally friendly water based lacquers. The type of paint used will determine how best to clean your kitchen cabinets.
It's not just about the paint!
As part of your preparation you also need to ask how your cabinets are being refinished. If the original wood or laminate previously painted surfaces aren't standing up to every day wear and tear it could be that they were incorrectly prepped for painting in the first place. Make sure you are dealing with a professional who knows how to properly prep your cupboards before the painting ever starts!
Regular maintenance.
On a day to day basis there are several ways to keep your painted cabinets looking their best. Cooking releases steam, oil and vapours into the room that can settle unseen on your kitchen cabinets. It then acts like a dust magnet pulling in and trapping dust on the surface and in the crevices of any trim and design work on your cupboards. Lightly dusting the cabinet surfaces regularly, using a lint free cloth or duster should help prevent build-up.
You may want to invest in microfibre cloths that are softer and generally a gentler choice to use, either wet or dry, on any surface.
Wiping down cupboards on the daily, especially after cooking, will prevent build up.
Deep cleaning.
When we suggest it's time for a "deep-clean" it doesn't mean heavy chemical laden products or even that you need to get down on your hands and knees! Rather, it's about properly preparing your choice of cleaning materials and living by the mantra "Gentle is Good," and "Avoid Abrasives!" Here are a few options to consider:

Use an all-natural combination you can make using materials you already have in your home. Baking soda and/or white vinegar, distilled in water, is all you need for most cleaning jobs and they are non-toxic for everyone in the home, including your pets! You'll want to dilute either product with a one-third, two-thirds ratio meaning 1/3rd vinegar or baking soda to 2/3rds warm water. Have one microfibre or lint-free cloth ready for dipping and wiping and the other ready for drying the cabinetry. This is key as leaving the surface to air dry could result in your painted cabinets bubbling over time. Work in a circular cleaning motion, softly not vigorously rubbing!
For ornate trim you may need a little more elbow grease and you might want to consider using a baby sized toothbrush – with baby-soft bristles or even a Qtip dipped in your solution to get into the crevices.
For tougher stains, it might be more appropriate to use some dish soap. Here again, you will want to dilute the mixture heavily – in this case you may only need 3-4 drops of dish soap in a water solution and you can wipe away stains without extensive scrubbing. Drying the surface with another, dry, cloth is still important.
You may also want to consider spraying the surfaces of your painted cabinets rather than dipping your sponge or cloth in water. This will help to ensure you aren't soaking the surface too heavily and you can make enough mixture to keep a full spray bottle handy at all times for quick clean ups after particularly messy meals!
Finally – for glass fronted cabinets a vinegar water solution or a commercial window cleaning product are both suitable for use – just make sure that you catch any drips running down onto the cabinet surfaces and dry them quickly.
As you can see, cleaning isn't necessarily the heavy chore you might have thought it would be. Regular upkeep of your painted cabinets will prevent surface stains from building up and becoming more problematic over the longer term but even if they do, always be gentle and always avoid abrasives! They will be too harsh on any kind of painted surface and could actually cause staining if used incorrectly.
Please note that although our finishes have the ability to withstand strong chemical cleaners, we do not recommend using harsh chemicals to clean your painted cabinets as it is not necessary. It could, in some cases, void the warranty. Good old household ordinary vinegar is often the best "go to" product to rely on and don't just take our word for it – check out any number of bloggers and "How To" websites and they'll tell you the same thing.
What they – and other painting companies – might not tell you is that at Harbor Painting Co. Inc. we stand by what we do with our Done Right Warranty – "a warranty we stand by for 10 years." Yes, you read that right – ten years! If you're ready to make a change, consider one that involves the team at Harbor Painting Co. Inc. Trust our team of painting professionals with years of experience in refinishing cabinetry, painting on all kinds of surfaces and who will treat your home like our own while we work. In the meantime, happy cleaning!