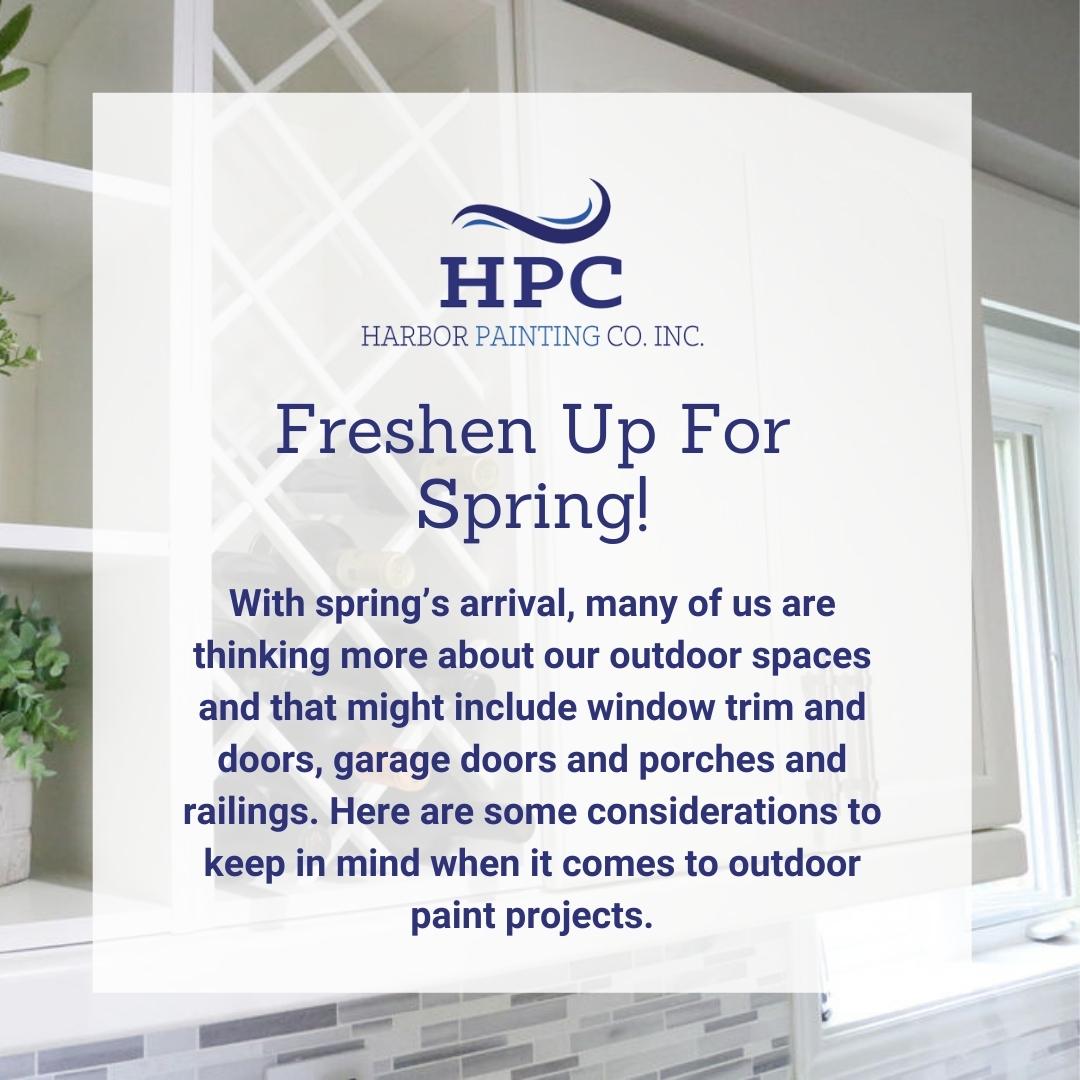 Painter Tips For Spring!
Painter Tips For Spring! No doubt we're all familiar with the expression "April showers bring May flowers," but April tends to bring other thoughts to mind as well. We throw open the windows to finally let some fresh air in and some of us start to think about ways to freshen up our homes and condos by cleaning windows and shaking out the carpets, while for many others – a fresh coat of paint or even a bit of a renovation is planned.
If that sounds like a conversation taking place at your house right now, we have some thoughts on renovating and painter tips for the spring that might be just what you need to hear. Is it time to freshen up for spring? We think so!
Perhaps a whole home renovation isn't in the budget but a few simple updates are. It's amazing how a coat of paint can do so much to "lift" the appearance of your space whether indoors or outdoors. With spring's arrival, many of us are thinking more about our outdoor spaces and that might include window trim, doors, garage doors, porches and railings. Here are some considerations and painter tips for spring to keep in mind when it comes to outdoor paint projects:
Pro Painter Tips For Spring!
Cleaning

Before you start any project we HIGHLY recommend a fresh start. By fresh we mean clean! There's almost no point in painting over a dirty surface as debris will clog up your brushes, cause streaking in your paint, even causing issues with paint not adhering to your surfaces. There are likely also some areas with mold or chipped wood/paint that you may need to fix before you start painting. Consider power washing the surfaces you plan on painting, or for really problematic areas, a mixture of diluted bleach and water with a scrub brush to take off ground in dirt, debris and mold. If the task sounds overwhelming, Harbor Painting Co. Inc. has your back with professional power cleaning services that will leave your home "as good as new" and ready for your finishing touch!
Paint Matching

A "whole home" painting project might not be what you need this spring. Perhaps you just want to freshen up the front door, the garage doors and maybe even the window trim. There are several factors to consider here; first and foremost being that each of these might be a different surface and require different kinds of paint. Additionally, paint colours will vary slightly according to the surface they adhere to. In other words, paint matching might prove challenging. Sure, we know that various home improvement stores will take a paint sample and do their best to match your colour selection but it's important they understand the surface to be painted, the type of paint that's best for that surface and use the best formula to guarantee consistency of the colour. At Harbor Painting, we work with colour matching experts at our local Sherwin Williams who understand the differences between wood, metal, aluminum, and vinyl to ensure your paint results look fabulous and CONSISTENT!
Colour choices for 2022

Are you thinking of changing up your door and trim colours? Here's what we know is trending painter tips for spring. It appears we are looking to nature for our inspiration – which we think is perfectly fitting for spring. Why not look to the great outdoors when looking for that perfect shade for your outdoor space? Several of the big name paint companies are promoting "soothing," or "calming" nature inspired shades of gray, gray green, silver green, and olive green. With names like Evergreen Fog and October Mist the beauty of these shades is that they will pair nicely with almost any colour of brick or siding, giving you a fresh update without a contrast that is too stark or dramatic.
Curb Appeal

It could be that you are doing a mini reno/paint update simply to improve the curb appeal of your home for resale purposes. If that's the case, the standard recommendation for painting a front door in a colour that pops still applies. Stay neutral for any other surfaces such as wooden railings and window trim but if you want to stand out from the crowd, consider a front door that screams "Hey – look at me!" Blue, in any shade from "duck egg," to "navy" is always a strongly recommended choice, followed by various shades of green. It appears we are still looking to nature for door inspiration and some home and garden magazines are even talking about floral blooms as fodder for an imaginative and colourful front door. Seems appropriate to us and shades of lilac were mentioned specifically.
Decks and Fences, Railings & Porches
This last category probably should be split into two as there's a very good chance your deck or fence might be wood while porch railings could be anything from wood to wrought iron. The reason we didn't separate them is simple. For most of us, taking on these projects bridges the gap between a mini renovation/paint update to a big project requiring lots of effort. In other words, this might be part of your spring planning but it's a topic all on its own.
When it comes to these areas of your home and garden you'll have to consider the advantages or disadvantages of paint vs. stain, rustproofing, whether to power wash first and whether to repair or replace any missing wood, lattice, trim or fixtures. It's a lot to reflect on, so our advice here is simply to make sure you do all the appropriate research before getting started and remember our handy painter tips for spring before you start!
We'll leave you with some final thoughts. Outdoor painting is always a challenge because you're going to have to factor weather into your planning process. You many even have to plan your project over several weeks to allow time for surfaces to dry after cleaning and/or after a rainstorm. You'll also want to make sure you have all the tools and resources you need to get the job done right (and safely!) like extension ladders, brushes, rollers, cleaning materials, etc.
If this all sounds like a lot of work, you might even decide to hire a professional and if that's the case, the Harbor Painting Co. Inc. team is a phone call away. We're ready to provide estimates, talk about our workmanship guarantee and happy to help you freshen up for spring!