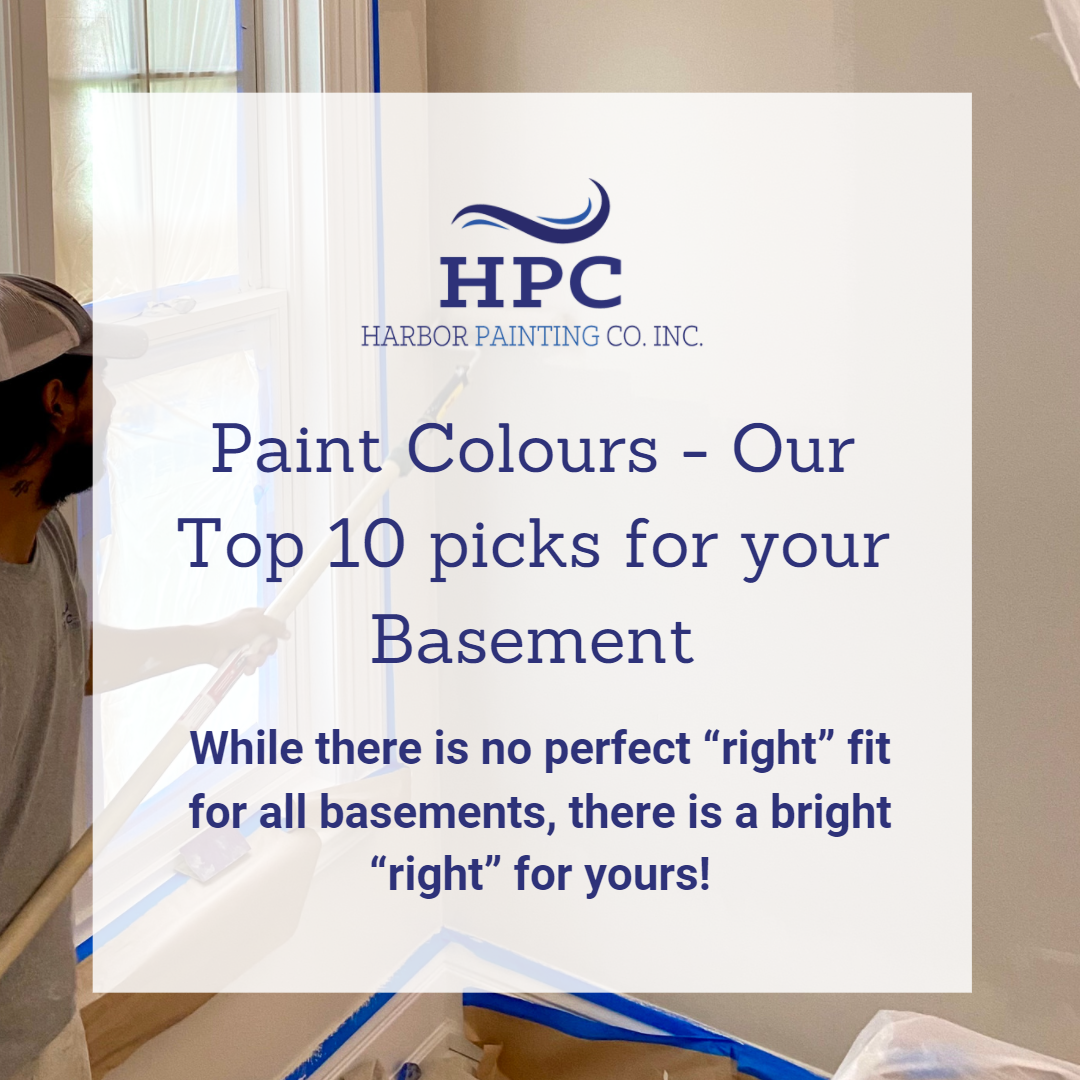 During the long, cold and occasionally sunless days of winter we long for warmth, comfort and for many of us, we hibernate. We seek spaces that exude a sense of snuggling down, perhaps by a fireplace (real or otherwise) and enjoying time spent with family. That said, it doesn't mean we want that space to be dark, foreboding or depressing! If anything, during this bleak time of year we also crave light!
Depending on the elevation of your basement and its size, window placement and your choice of paint colours – you can have both! Warmth, style and comfort AND an overall feeling of a light, bright space can both be yours, simply as the result of choosing the right paint colours for your basement. While there is no perfect "right" fit for all basements, there is a bright "right" for yours!
What to think about when considering paint colours?
You'll want to spend some time in your basement at various times of the day and evening to get an overall sense of how much natural light your basement receives. While you can play with artificial lighting all you want, natural light is an important consideration too as it could change the overall tone of the paint colours you choose.
As stated in our opening paragraph you will also want to consider how many windows you have in the space and/or, if the basement is above ground and in what direction (and what time of day) you'll see the most sunlight in the room.
What is the basement going to be used for? If it's primarily a play space for the children, no matter what your overall design aesthetic is, you'll want to choose a bright, reflective and washable kid-friendly colour. If on the other hand you're going for a moody, movie-themed space or an adult-centric play space with pool table and bar – using darker colours on the walls with judicious pops of colour in the décor and lighting may be more appropriate.
Finally, if warmth, cosiness and an extra space for the whole family to gather are what's on your mind, lighter paint choices like cream, beige and even white might be best and again, you can use your furnishings and décor to bring warmth and colour into the space.
What paint colours are currently "On Trend?"
Bright White, tops just about everyone's list of best paint colours for a basement. That said Benjamin Moore alone has more than five recommended shades of white, proving that even "basic" white is subject to interpretation. Those who choose white will often use an accent wall of a much bolder, stronger colour and choose coordinated fabrics, throws and pillows to add warmth to the white.
Grey and Greige (a combination of Grey and Beige) are on the way out but that doesn't mean you have to stop using them if they are a personal favourite. Again it's all about shade and undertone and accents. To avoid your basement looking like a jail cell, stick to lighter greys and a paint that will reflect light like a gloss or semi gloss instead of a matte.
Pantone's colour of the year for 2023 is quite playful and could be just what you are looking for in a basement, at least for an accent wall. It's called "Viva Magenta" and is a new animated red described as "brave and fearless… and promotes a joyous and optimistic celebration, writing a new narrative." Consider bright white with Viva Magenta accents if you are feeling "on trend" this year.
Other colours include:

Sky Blue, said to bring a sense of calm to your space.
Fiery red, as an accent wall to "infuse some energy" into the room.
Purple, which according to Bob Vila's website can be royal and sophisticated (dark) or playful and soft (lavender.)
Benjamin Moore's "coastal" colours offer a range of blues, beige and grey as does its "farmhouse" palette – both giving you a number of options to choose from while still keeping a sense of both warmth and brightness in the room.
Cream is calming and inviting and allows you a greater range of flexibility when it comes to accent colours. Again, depending on the tone you choose, cream is a neutral that pairs nicely with almost every other colour to create a combination that works well.
Navy Blue or Brown. These two bold choices are great for those "adult" playrooms we described, movie theatre like retreats, or a home office or luxurious home library space.
Other factors to consider when choosing a paint colour AND other ways to add colour and dimension to your space.
Think carefully about the "family" of the paint colour you are choosing. Many don't realize that paint selections are based on colour palettes and those palettes will offer a different undertone to the colour you choose. White is NEVER just white! In the red/pink family, any shade of white will present with an undertone of blush while in the blue or grey family, white may have undertones of grey. You'll want to be sure to never accidentally choose a white from the green family of paint colours, paired with a shade of yellow for example, as your white will assume an entirely different undertone of colour than what you intended.
Paint companies have done the work for you. Whether we can help you, or you visit a local home supply company, folks who have difficulty envisioning their space can rely on the work and expertise of others. Paint colour palettes will provide an automatic range of colours from the same "family" making it easy for you to choose a "blue-based" white to go with your navy blue accent wall and a complementary colour to use for your accents such as doors, trim and baseboards.
Also – did you know that the colour palettes shown on display chips in the store are not ALL the paint colours available to choose from? Many paint manufacturers provide a sample with a short selection of colours on the display chip but there are often many other hues between each of the colours shown. You have a lot to work with!
Choose your accent pieces carefully from beautiful faux fur throws to snuggle under while watching a show, to a variety of large and small accent pillows to keep everyone comfy as you do. Artwork should reflect both your personal taste AND all the colours that you have chosen for the space.
To create further feelings of light, you may wish to use mirrors strategically positioned to bounce light back into the room or recessed pot lighting in the ceiling that are dimmable – allowing for either romance or a rousing round of Scrabble! As well hanging lights / pendulum lights are another way to introduce downward facing lighting rather than lamps which tend to send most of their light up toward the ceiling.
Remember window coverings too. Roll up shades or shutters that can be fully open during the day but give privacy at night are good options as are light filtering shades. You'll probably want to avoid heavy and/or room darkening curtains in a basement – unless perhaps you have an above ground sliding door feature that you want to ensure is covered at night for privacy.
When it comes to "the colours of our lives – basement edition," choosing what's "right" for you and your family and how you plan to use the basement will still reign supreme over whatever is most popular right now. After all, while you can always paint again, most homeowners probably hope to use the space for a good 3-5 years before swapping out their colour choice.
Ultimately, colour is deeply personal and no matter where you seek to add light, warmth or a feeling of comfort, we'll leave the final word to Harbor Painting's Owner, Danny Samuelson: "We take the greatest pleasure in enlivening the space within a person's home. Watching clients' reactions as we transform what was once their worn outdated space, into one that is now filled with warmth, light and a renewed sense of life, well…that's what it's all about."
Contact Harbor Painting Co today for a quote on painting your basement!