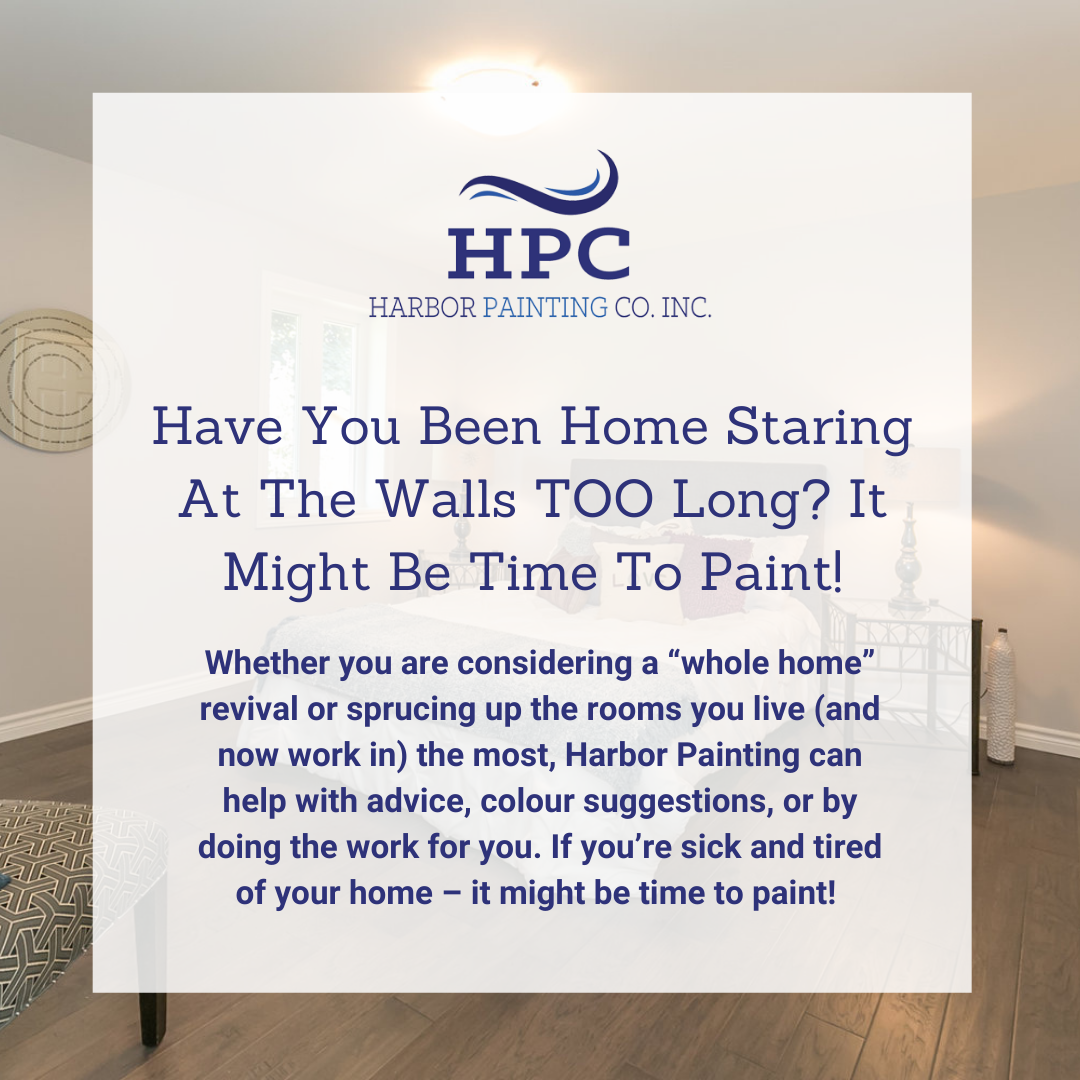 Interior Home Painting: Have You Been Home Staring At The Walls TOO Long? It Might Be Time To Paint!
This comes as no surprise to anyone; because of the Covid-19 pandemic, far too many of us have been at home, staring at the walls (or Zoom screens!) for far too long! By now, you must feel as though you know every nook and cranny in your home, that you can see every scuff mark, ding or dent in the paint and in addition to all the damage, you're growing absolutely sick of the colour choice that seemed so perfect just a few years ago!
Perhaps it's time to give yourself a gift this holiday season and update your home with new interior paint colours. Whether you are considering a "whole home" revival or sprucing up the rooms you live (and now work in) the most, Harbor Painting can help with advice, colour suggestions, or by doing the work for you. If you're sick and tired of your home – it might be time to think about interior home painting!
Interior home painting is challenging, particularly when you are still living in the space. It would be nice to clear out for a few days and come back to a refreshed home but life rarely works that way! It involves a little bit of effort on everyone's part and no one knows that better than the team at HPC. We treat your home as we would our own. While we are with you we take every precaution both to treat your home with respect and we follow strict pandemic protocols. But first, before we share what we do, let's talk a little bit about what to consider when you consider interior home painting.
It's Time For Some DIY Interior Home Painting – What Do I Need To Consider?
Have a good look around your home. You'll need to repair any cracks, dents or drywall taping that has separated from the wall, something that tends to happen in corners quite frequently.
Take down all your artwork and/or shelving and fill in the holes with plaster and then sand.
You might wish to wash or vacuum your baseboards and you should certainly wipe down all your window frames, particularly above them – even though no one ever looks there, they will be dusty and that can be dragged into your paint.
Take down light fixtures where necessary and remove all faceplates and light switches.
Tape windows, doors and baseboards, place drop sheets and ensure you have a ladder tall enough to do even the most hard to reach places.
Consider a base coat over particularly dark walls to avoid colour fluctuations.
When you visit the paint store ask questions about durability, washability and bring home samples to test in various light conditions. Paint colour really does "change" throughout the home depending on lighting, the size of the room, and whether it is above or below grade.
It's Time To Paint – I'd Rather Someone Do It For Me!
Our craftsmanship and attention to detail is second to none when it comes to interior home painting. Every member of our team truly takes pride in what we do and we can do a lot!
Our team:
Paints Walls, Ceilings and Trim at any height including cathedral ceilings.
Offers sprayed or brushed, trim enameling.
Does complete kitchen cabinet refinishing.
Completes drywall repairs.
We use dustless sanding equipment when sanding trim, doors and walls reducing the amount of unwanted particulates in the air.
Best of all – we have ALL the tools and resources required to do a great job, at our fingertips because we're professional and experienced and we KNOW what it takes to make your interior home painting last for years to come!
We'll do the work fast, accurately and with a minimal amount of mess. We provide a free, in-home consultation and walk through to discuss every aspect of the job before providing you with a free quote for services. We specifically tailor those services to your needs, helping to bring your vision to life with our dedicated team of painting experts. Our founder and owner, Danny Samuelson, has this to say about painting homes: "We take the greatest pleasure in enlivening the space within a person's home. Watching clients' reactions as we transform what was once their worn outdated space, into one that is now filled with warmth, light and a renewed sense of life, well…that's what it's all about."
Who knows how much longer we will all be working from home and frankly, even if we're not – we all want an inviting space to live, work and play in. If you're tired of the walls and the walls look tired, give yourself the gift of updated interior painting for the new year. Hire the professional team at Harbor Painting. Superior finishes, trusted craftsmanship, done right – the first time!
Also feel free to learn more about our interior painting here!